Saturday, October 24th, 2020
Two written testimonies submitted by Jim Albertini for NO lease extension at Pohakuloa Training Area EIS
Map of 23,000 acres leased by the military from the State of Hawaii at the Pohakuloa Training Area on Hawaii Island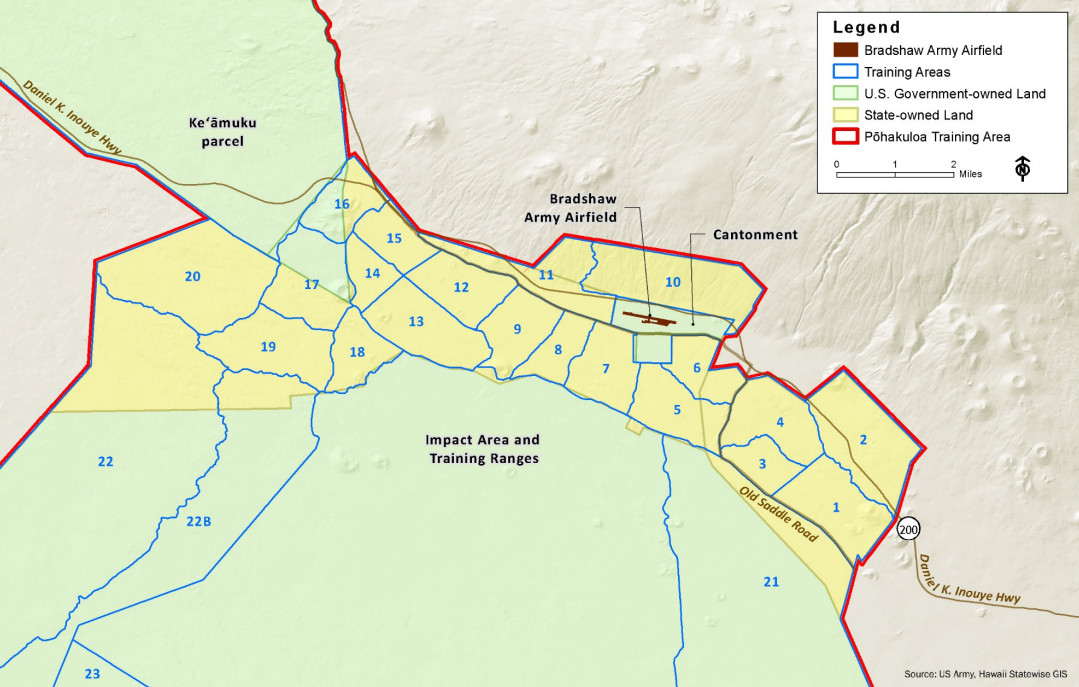 Oct. 14, 2020 Thank you for your comments on the Pōhakuloa Training Area EIS. Your comments have been received.
Name: Jim Albertini
Address: P.O. Box 489
City: Kurtistown
Province: Hawaii
Postal Code: 96760-0489
Email: ja@malu-aina.org

Pōhakuloa Training Area EIS
These are additional comments to ones I have submitted earlier. (Sept. 23, 2020 attached below)
1. The Army, Specifically Pohakuloa Training Area (PTA) has often boasted about its stewardship of the land. This is bogus. There can be no greater desecration of the land than to BOMB it and contaminate it with a wide range of long-lasting military toxins. The scoping EIS document needs to list in detail ALL the various weapons ever used at Pohakuloa, including all the nuclear, chemical, and biological agents. I specifically call for all of the above not simply used on the "leased" lands but all the lands at PTA which are connected. The contamination from one area can be spread by wind, rain, fire, etc. Pohakuloa has be turned into a military toxic waste dump. The lease lands at PTA are downwind of DU spotting round firing and impact ranges. The military needs to "Malama Aina" –take care of the land, not desecrate the land.
2. Why hasn't the military complied with Hawaii County council resolution 639-08 passed in July 2008 by a vote of 8-1 that called for a wide range of actions including stopping all live fire at PTA until a comprehensive , independent assessment of the Depleted Uranium (DU) present at PTA and the clean up of the DU. The numerous other actions called for in this resolution should also be addressed in the EIs Scoping document.
3.The importance of the Hawaiian cultural significance of the land at PTA and the surrounding area needs to be fully researched. To my knowledge only about 1/3 of PTA's 133,000 acres have been researched for cultural sites. I have been told Pohakuloa means "the land of the night of long prayer." Nearby is King Umi's temple and Pu'u Kole.
4. Have the frequent brush fires at PTA spread DU oxide particles and other contaminants including PFAS used in fire fighting foam?
5. The military has a record of walking away from cleaning up its mess. Our Malu Aina organization has documented 57 present or former sites on Hawaii Island totaling hundreds of thousands of acres of land just on Hawaii Island in need of military clean up. The same story over and over — no funds available. Plenty of money to make mess after mess but too little funds available to clean up after yourself. See attached uploaded file.
6. The cumulative impacts of all the toxins used at PTA needs to be addressed. And how these toxins in air, ground, and water can be spread around all of PTA and off site.
7. Citizens have a right to see a comprehensive view of all the types of specific training done at PTA not just generalizations. All the weapon systems involved, number and content of rounds, etc.
8. And what is all this military training really for? We are told to "defend freedom and democracy" but the reality of US military operations over the last 50 years has been wars of aggression and the attempted overthrow of more than 50 countries for political and economic interests. Please explain how training for nuclear war at PTA is in the interest of "freedom and democracy." There will be no winners in a nuclear war. No freedom and democracy either.
Attachment(s):
military sites in Hawaii island.JPG
—
Jim Albertini Malu 'Aina Center For Non-violent Education & Action P.O. Box 489 Ola'a (Kurtistown) Hawai'i 96760 Phone 808-966-7622 Email
ja@malu-aina.org
Visit us on the web at
www.malu-aina.org
Sept. 23, 2020 comments by Jim Albertini submitted for the EIS on lease extension at PTA
Public Comment Form
Please review your information and press 'submit comment' button.
Contact Information Sept. 23, 2020 submitted
Pōhakuloa Training Area EIS
1. How many live rounds are fired annually at PTA? List all the various kind of rounds fired. List other type of rounds used at PTA besides live rounds. What kind of rounds do the B-2 bombers drop? Is that training for nuclear war? As I recall the last figures released during the Stryker EIS stated 14.8 million live rounds were fired annually at PTA.
2. Besides DU from Davy Crockett spotting rounds fired at PTA, list all other DU rounds used at PTA. In addition, I have received reports that at least 6 Davy Crockett type nuclear weapons were exploded at PTA. Testing needs to be done for Cesium 137, etc. in the soil to confirm or deny such possible exploding of nuclear weapons at PTA.
3. A water well was drilled in the main PTA base area in 2013 by Dr. Don Thomas. Water was hit at a shallow depth of only 700 feet. Yet PTA is not using that water source and PTA continues to spend $1-2 million /year to haul water. What contaminants are in that water well at PTA? List all test data, especially if perchlorate is present. Perchlorate from munitions and rockets have been found in ground water around a number of military bases in the US where rockets and munitions are used.
4. Testing for DU oxide particles not simply DU metal needs to be done at PTA and at Mauna Kea Park (Gil Kahele Park) across Saddle Rd. from PTA. DU oxide particles can be carried long distances in the wind and can cause cancer and other health problems when inhaled. The internal hazards of DU oxide need to be addressed not simply the external hazard of DU metal.
5. What is the cultural significance of the Pohakuloa general area. Has the area been referred to as "the land of the night of long prayer?"
6. Is the 84,000 acres of land, including the 51,000 acres of the PTA impact area really "owned" by the Federal government or simply seized by Presidential executive order in 1964 by President L. B. Johnson? What compensation was paid for that 84,000 acres of seized lands? My understanding it is ZERO.
—
Jim Albertini Malu 'Aina Center For Non-violent Education & Action P.O. Box 489 Ola'a (Kurtistown) Hawai'i 96760 Phone 808-966-7622 Email
ja@malu-aina.org
Visit us on the web at
www.malu-aina.org
Say NO to Army PTA Lease Extension!
STOP BOMBING POHAKULOA!
The Army is beginning the process of studying the impacts of continuing to use state leased lands at Pohakuloa beyond 2029. All comments should be submitted by the deadline of Oct. 14, 2020. Comments can be emailed to: usarmy.hawaii.nepa@mail.mil or submitted on line or mailed by US mail. Here is the Army homepage for the EIS. https://home.army.mil/hawaii/index.php/ptaeis/project-home There will also be an EIS Scoping Virtual Open House on Wednesday, September 23, 2020 from 4-9 p.m. During the EIS Scoping Virtual Open House, video presentations can be viewed online at https://home.army.mil/hawaii/index.php/PTAEIS and oral and written comments will be accepted. More information can be found at: https://www.federalregister.gov/documents/2020/09/04/2020-19620/environmental-impact-statement-for-army-training-land-retention-at-phakuloa-training-area-in-hawaii
Here are a few issues you might want to comment on: Unexploded ordinance (UXO) clean up, Depleted Uranium and other toxic contamination of air, land and ground water, invasive species, cultural sites and the cultural significance of Pohakuloa itself. The military controls nearly 133,000-acres at Pohakuloa. 23,000 acres of this is leased from the state for $1 total for 65 years –1964- 2029. These so called "ceded lands" are crown and government lands of the Hawaiian Kingdom before the U.S. overthrow in 1893. These lands are in the ahupua'a of Humu'ula (crown), Kaohe and Pu'uanahulu (government lands). Besides the 23,000 acres of leased lands at PTA, 758 acres were obtained by an executive order of Governor Samuel Wilder King in 1956 and 84,000 acres by a Presidential Executive Order of President Lyndon B. Johnson in 1964. These lands by executive order were turned over to the US military without any compensation.More recently, in the early 2000s, an additional 23,000 acres of land near Waiki'i Ranch was purchased by the military from Parker Ranch.
Today, we need a broad based citizen movement to Stop the Bombing of Pohakuloa, like the movement that stopped the bombing of Kaho'olawe. All the lands at Pohakuloa should be cleaned up by the US military and returned to the Hawaiian people. An important step in this process of de-militarizing Pohakuloa and Hawaii is to stop the PTA lease extension. Please speak up and get your ohana and friends involved. Your voice is important. We are stronger when we stand together for aloha aina.
The Military Needs to Malama Aina – clean up it's mess!
1. Mourn all victims of violence. 2. Reject war as a solution. 3. Defend civil liberties.
4. Oppose all discrimination, anti-Islamic, anti-Semitic, anti-Hawaiian, etc.
5. Seek peace through peaceful means and work for justice in Hawai`i and around the world.
Malu 'Aina Center for Non-violent Education & Action
P.O. Box 489 Ola'a (Kurtistown), Hawaii 96760 Phone (808) 966-7622 Email ja@malu-aina.org
For more information and to receive our posts go to www.malu-aina.org
Sept. 18, 2020 Hilo Peace Vigil leaflet – week 990 – Fridays 3:30-5PM downtown Post Office